ENP's Map is a collection of 92 neighborhoods … that families call home.
We are currently serving 45 of Fresno's 92 neighborhoods.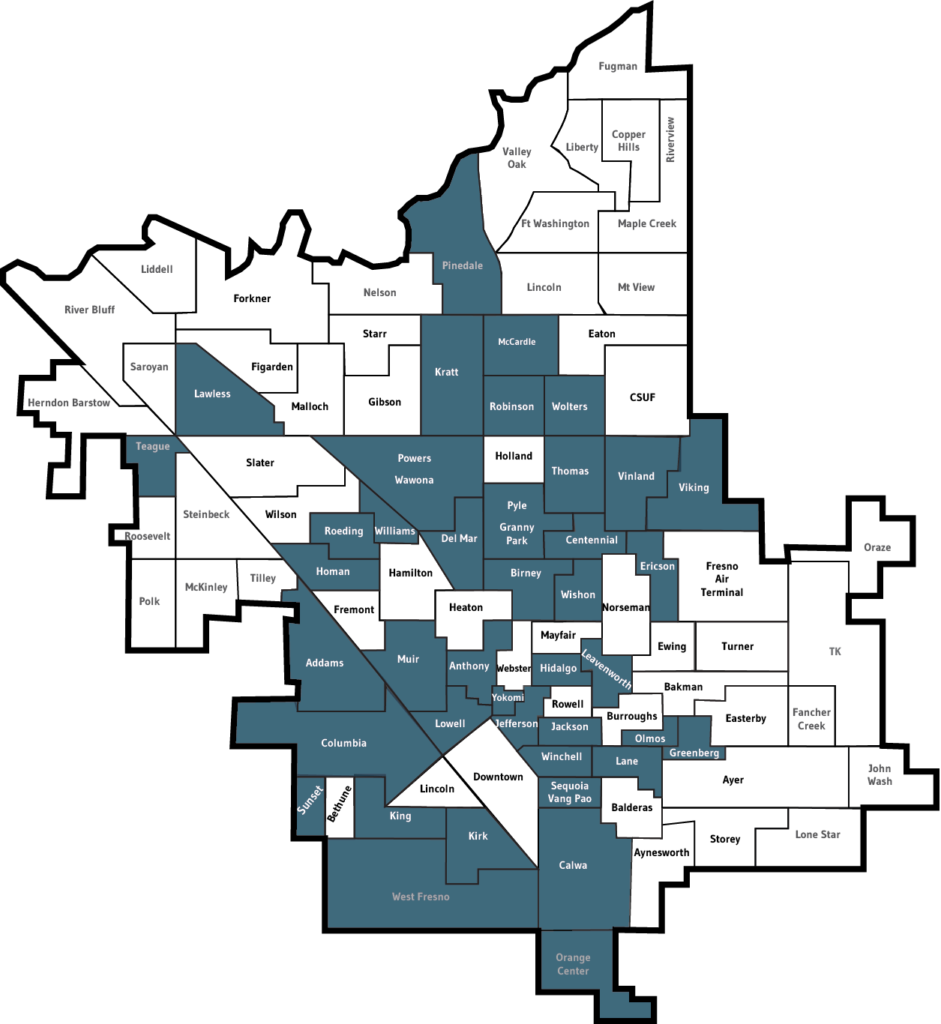 When you look at our map, you are really looking at it from 20,000 feet; an aerial view if you will.  We use that map to give a  macro snapshot of our work in Fresno/Clovis.
If you zoom into some of those neighborhoods, you see a collection of families, businesses, schools, churches and other neighborhood assets. A community.
I wanted to take you on a blog tour of a few of these neighborhoods.
Jefferson West Neighborhood
Jefferson is one of the oldest neighborhoods in the city of Fresno. It's split in half by Hwy 41, so there's Jefferson West and Jefferson East.
Jefferson West has some strong resident engagement doing great work to build community. Pastor Henry Oputa and his wife Francine have been living in the neighborhood for almost 20 years now. They host meetings at their home, run a Saturday Sports club through their church, The Way Ministries, and organize a neighborhood cleanup with other parents a couple of times a month.
Ivan and Beth Paz have lived in this same neighborhood for 5 years now; they moved in right after they got married. Because Ivan is fluent in Spanish, he's helped train the Spanish-speaking residents in Asset Based Community Development, a passion of his. They also host gatherings at their home and Ivan works with youth in the neighborhood with fitness and exercise.
Both the Oputa and the Paz family love their older neighborhood. They feel at home living in a neighborhood that has some challenges with poverty and some gang activity. This is where God has placed them.
Homan Neighborhood
The Homan neighborhood is located in West Central Fresno near Clinton and West avenues. Named after former Fresno Mayor Frank A. Homan (1937-1941),  it's a densely populated neighborhood with lots of homes and apartment complexes. It's also a very diverse neighborhood.
Pastor Brian Semsem both lives and leads his church, Living Free Missionary Baptist Church, in the Homan neighborhood.  Brian first got engaged in the community by starting a Saturday Sports program at Homan elementary. Since that initial spark, Brian has hosted community meetings, helped launch a food distribution, and is currently helping to train some of the parent helpers at the school to engage with students during recess and lunch break.
The families in the community want to be a part of their school and neighborhood in a larger way. Brian and his outreach team are making that happen. Brian works closely with the principal and other staff at Homan elementary as they seek ways to make a deeper impact on the school campus and in the neighborhood. Thus far, the future is bright for continued transformation.
Jackson Neighborhood
Centered by Tulare, Belmont, Cedar and First streets, you find Jackson elementary. The historical brick building is still home to over 725 students that attend during the school year.
Fresno's historic Huntington Blvd cuts through the middle of the neighborhood. At one time one of the most wealthy neighborhoods in Fresno, it is now a unique mix of mid to upper-income families blended in with some lower income families. Yet it still has a wonderful feel when you drive into the neighborhood.
Cesar and Terry Rios have lived in the neighborhood for several years. When their friend, Jamison White, told them about ENP's  Church/School partnerships they were very interested in seeing if they could get their church, Trinity Community Church, active at Jackson.  They soon launched a Saturday Sports program as well as formed a presence on the campus during the school week.
About 2 years ago Jamison's brother, Joe White, moved back to Fresno from Vancouver B.C. Joe decided he wanted to start a church plant in the Jackson neighborhood, thus Neighborhood Church was formed.  Pastor White's vision is to come alongside the great work already going on in the neighborhood and build upon that. His vision is for the church congregation to know every resident by name living in their community. They're well on their way, as they've already gotten to know about over half…
Relationships are the foundation of community. It's also the foundation of Every Neighborhood Partnership. On a daily basis, we zoom up and see the big picture map of Fresno's 92 neighborhoods. Then we zoom down and engage in conversation with the active folks in these neighborhoods and assist them in the things they are doing to make our city a healthier place to live.
Serving Fresno, one neighborhood at a time.