Overview
Saturday Sports is a two-hour program held throughout the year, that engages volunteers in a group mentoring setting with students, giving them the opportunity to do something positive and fun in their neighborhoods.
GOALS OF SATURDAY SPORTS
For Students
Open access to green space for fun, healthy activities
Positive adult role models & character lessons
For Volunteers
Way to be a consistent presence in the neighborhood
Increase mentoring and a deeper investment in kids/families
Most sites are hosted by local churches who have established a partnership with the school and surrounding neighborhood.
Activities can include many sports games, crafts, and fun activities.
A short Bible story or positive character talk is presented at the end of the morning and a sack lunch is given to each child. Students will either eat the lunch on campus or take it home to eat.
ENP provides support, guidance, training, equipment, liability insurance and a connection to the school campus, making it easy for the church to start and maintain a partnership.
ENP has also created a network of support with volunteers from Fresno State, Fresno Pacific, City Departments and other Community Based Organizations (CBO's) to assist the church in their mission.
Currently, there are 32 active programs going on throughout Fresno.
Want to Volunteer?
Step 1
Fill out the ENP Volunteer Application
Step 2
Choose an Orientation Date. Sign Up Below.
An orientation will take place at pre-selected Saturday Sports sites throughout the year. This will give you a bit of an overview about ENP and your role as a volunteer.
Register for Orientation
Things to Know Before Coming Out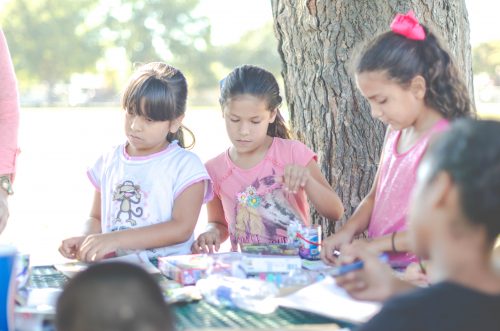 AFTER ORIENTATION
If you are volunteer more than 10 hours please get fingerprinted
Please arrive at least 5 minutes prior to the start time
Check-in when you arrive
Ask the leader how you can assist with morning responsibilities
Get to know the kids! Ask what they love to do at Saturday Sports and just GO PLAY!
Get further connected: If we can connect you into an intentional mentoring relationship or you would like to serve on campus as a Literacy mentor let us know!
CHECK-IN
Everyone attending Saturday Sports must sign in.
RULES
Children are asked to obey the same rules that apply at school, including; No foul language, no fighting, no riding bikes or skateboard on campus, and no weapons, including pocket knives. If an issue arises, let the leader know so they can address the situation.
ENGAGING KIDS & CROSSING CULTURES
We all grow up in different environments. Socio-economic background, language, values and ethnicity all play a role in the way we go about our day.
It is important to engage with a heart for understanding, listening, and learning. It is not bad, but different! Engage these kids and families with a heart of openness and understanding. By doing this you will be providing opportunities for them to have fun in an atmosphere that is positive, safe, encouraging and affirming.
ENGAGING PARENTS
We want to recognize parents in our neighborhoods as a valuable asset. Get to know them and give them opportunities (invite & encourage them) to serve alongside you.
HANDLING CONFLICT
If an issue arises it's important to address it with a heart for restoration instead of punishment. Make sure those kids know how much you care about them when addressing their behavior. Help them work through it and let them share ideas for ways they could have handled it differently.
If there is a violent offense let your Saturday Sports leader know right away.
Never be alone with a child. Avoid any opportunities for compromising situations or false accusations.
Video Highlight
Please view the following video which was created for one of our partnerships. It shows the heart of why we do what we do and the value of investing in the lives of our youth.
Saturday Sports