Understanding How Trauma Affects Our Valley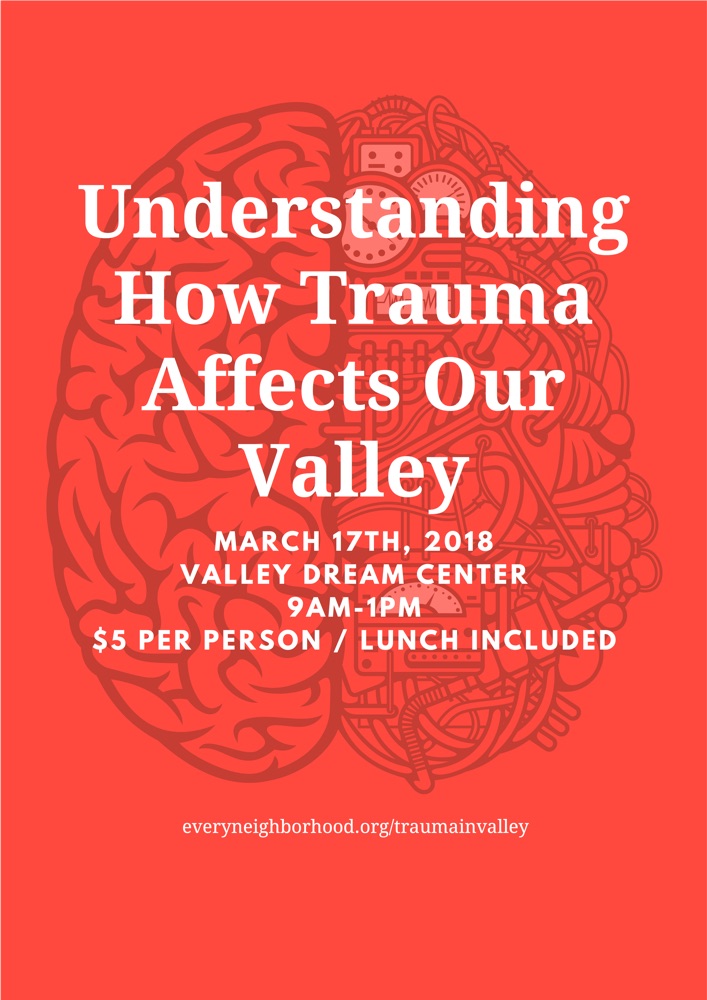 Why You Should Go
The purpose of this conference is to educate the Christian community on the generational effects of trauma that our families and kids are facing on a regular basis in our neighborhoods.
Most in the community don't realize the types of trauma that our kids ages 0-18 will face and their immediate effects. Nor do they understand the long-term effects when they become adults.
This conference will share what scripture has taught us about trauma and we'll also dive into a discussion of how it affects our community in the areas of Education, Health Care, Public Safety and other areas.
We'll also look at the data that we currently have and it impacts in our community.
This conference is led up by Every Neighborhood Partnership and the Trauma/ACES Workgroup.
Additional Details:
Cost – $5 w/ includes Lunch
Location – Valley Dream Center (Map)
Time – 9am-1pm
Schedule & Breakouts
Schedule:
Intro Session
– Biblical Importance
– What is Trauma? Dawan Utecht, Director of Behavioral Health for Fresno County
Breakouts
– See Descriptions Below

Closing Session
– Citywide Data on Trauma from PD & County
– Preview Next Workshop – Resilience
– Lunch Conversations – Prayer – Debrief
Breakouts:
Learn More About Trauma
Increasingly we at ENP are becoming more aware of the many different adversities families in our communities face. This Trauma 101 resource page is just one more way ENP is working to connect and equip churches and other community partners to serve in every neighborhood.
WHAT IS CHILDHOOD TRAUMA?
Childhood Trauma can results from ANY childhood EVENT, series of events and or circumstances that a child EXPERIENCES that result in TOXIC STRESS that has an adverse EFFECT on a child's developing brain. (Also referred to as Adverse Childhood Experiences or ACE's)
CHILDHOOD TRAUMA CAN INCLUDE:
Emotional, Physical or Sexual Abuse or Neglect
Witnessing Violence Inside or Outside the Home
Household Substance Abuse and or Mental Illness
Parental Separation Or Divorce
Incarcerated Household Member
Bullying (By Another Child Or Adult)
Being Homeless
HOW DOES CHILDHOOD TRAUMA AFFECT HEALTH?
Frequent or prolonged exposure to Childhood Trauma can create toxic stress which can damage the developing brain of a child and affect overall health. Toxic stress may prevent a child from learning, playing and relating in a healthy way with other children and adults and can result in long-term health problems
RISKS ASSOCIATED WITH EXPOSURE TO TRAUMA:
Drug and Alcohol Abuse
Depression and Other Mental Health Issues
Heart and Liver Disease
Intimate Partner Violence
Adolescent Pregnancy
Sexually Transmitted Diseases (STD's)
Suicide Attempts
Resource Links
General ACES Information

ENP Presentations
Next Steps
Get Connected
Understanding How Trauma Affects Our Valley