We gathered on Saturday, January 6th to celebrate our Literacy Mentors and kick off the new semester.
The morning had several goals:
To celebrate and thank the wonderful people who are serving on our school campuses! They give of their heart and time to make an impact in literacy and in the lives of children who are the future of our city!
We also wanted to give these volunteers an opportunity to meet each other and spend some time together. It was great to see them share stories, network, laugh and get to know some of the people on their much bigger team.
Although they don't work together on campus during the week, they all serve in the same city – with a shared goal and a shared heart for children and literacy! What an amazing group of people!
For one of the activities that morning we had them team up with two other people and work together to create a paper chain.  Easy enough, right?  But there was a "catch": each person could only use one hand. It was a true lesson in working together toward a common goal.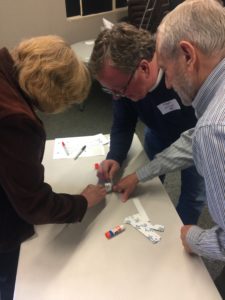 It was a fun activity and a great lesson in teamwork. But as each group of three was creating a small chain, I was thinking of the number of children our Literacy Mentors have the opportunity to work with each week. When we put those little chains together it became a big chain. And then I realized that the number of links we connected was nearly the same number of children our Literacy Mentors worked with this past semester!
Each week our volunteers have the opportunity to invest in children. They encourage them, give them a "high five", smile, read to them, and help them learn their sight words.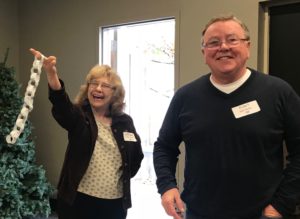 Imagine if we had more amazing volunteers like these people. Imagine how long we can make that paper chain! Interested in learning more and seeing how you can be involved? Check out our website.